Post-AYC Mission/Roadtrip!
WHAT: Mission/Road trip
WHERE: Northern Finland (Salla, Posio, Kuusamo and Taivalkoski)
WHEN: Sign up starts on the 24th of March. The camp starts on Sunday, the 7th of August, and ends on Sunday, the 14th of August (7.8.2022-14.8.2022)
WHY: To help others in need, make new friends and deepen your relationship with God.
LAST MINUTE RESERVATION UNTIL 28.6.2022!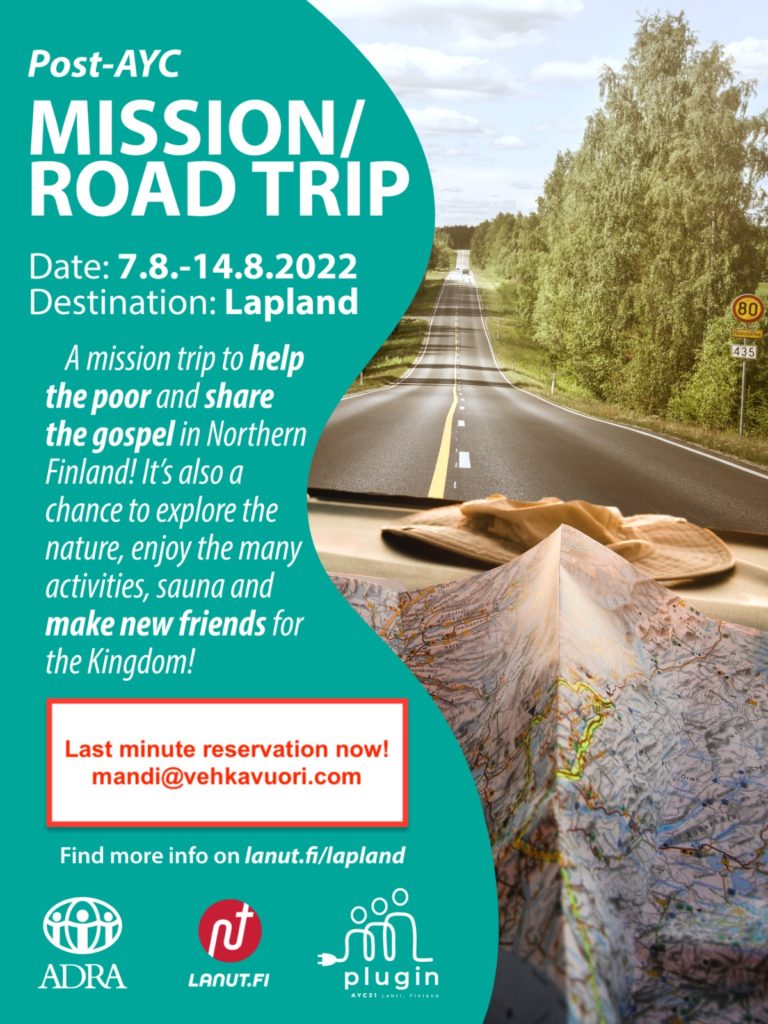 While helping those in need, we will explore the pure nature of Finland. Hiking in breathtaking landscapes and rafting down rivers are only a couple of the activities we will do. After our eventful days of helping and exploring, we can socialize with each other and enjoy playing games, swimming and going to the sauna. Deepening our relationship with God will also play a key role in this camp.
Do you feel like 5 days is not enough to explore the mysterious country of Finland? Luckily there will be a post-AYC Mission/Road trip! During this week long trip we will outreach to those in need and explore the nature of Lapland. Charity work will be done in collaboration with ADRA Finland. During our outreach we will use our skills and talents to serve the poor. Our mission fields will include four cities/villages such as Salla, Posio, Taivalkoski and Kuusamo.
This once-in-a-lifetime experience is an all-inclusive trip that costs 200€ (travel, food, activities, accommodation with a bed). You can ask for a sponsor from your country (the ones living in Finland get a 50€ from a Finnish sponsor towards the trip so that leaves 150€ for the personal responsibility). We are asking you to pay a deposit of 50€ for registration.
This event has limited participation which means that only 30 international people and 20 young people living in Finland can join. The first 50 participants will be sent an email that includes the payment details. The registration is open until all spots are taken. We will meet on Zoom for the kick-off meeting (Q&A, ideas, getting to know each other) closer to the event. The exact time will be informed after you register.
The first day of the trip we will drive to Northern Finland by bus. On the second day we will prepare for the charity events all together. During the week, half of the group will do outreach in local communities and the other half will be involved in other activities. On Sabbath we will attend church and go on a trip together. On Sunday, the last day of camp, we'll travel back to Helsinki-Vantaa airport (via Lahti). If someone needs further accommodation on the day of return, we can help in arranging that (no extra cost).